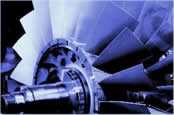 TURBOMACHINERY AND VIBRATION EXPERTISE


kmo turbo is a German engineering company based on decades of turbomachinery experience. Besides troubleshooting, commissioning and the proficient retrofit of used machines we develop, manufacture and distribute innovative solutions for the control and vibration monitoring of rotating equipment of all manufacturers. Over the years kmo turbo has build a reliable network of partners and specialists. Thereby we are able to provide high quality and outstanding products at attractive pricing. All our products are designed for maximum operational benefit.

We look forward to meet your individual technical challenge!
In the following (please scroll down!) You find documents about selected products and services as download links.
COMPRESSOR CONTROLS:
for Anti-Surge Control & Reverse-Flow Protection
>> kmo Reverse-Flow Protection & Anti-Surge Control
Expert controls for turbocompressors
>> kmo Anti-Surge Control Valve
Pneumatic control valve with outstanding dynamic
behaviour and quick opening times below 1 sec
Multichannel generator for analog and digital signals
- the ideal simulation tool for PLC programmers
"flight recorder" for industrial machines
permanent vibration analysis
MACHINE VIBRATION:
>> kmo Probe Mounting System (KS016)
for reverse mount eddy current probes
- oil-tight, with insulating connection head,
>> kmo SensiChecker & LoopChecker
Dynamic test of vibration monitoring systems
Testing the sensitivity of the measuring circuit
- measuring unit for time-saving and comfortable
adjustment of the gap of eddy current probes
- universal transmitter for shaft vibration
and axial position measurement
--> Adjusting Axial Position Probes
--> Risks of inconsistent rotor vibration
Robust accelerometer with 4...20 mA transmitter
- cost-effective vibration measurement
HYDRAULICS:
>> Retrofit of Hydraulic Actuators
to electronic control (4...20 mA) ´
Approved valves for the pressure control in
lubricating, sealing and control systems:
--> Type R: KALB pressure control valve
--> Type S: KALB relief valve with control screw
--> Type DM: KALB pressure reducing valve
- detect "water in oil" and leakages without delay!